We are reading … Charlotte's Web (E.B. White) 
What is a Diamante Poem? A Diamante Poem is a poem in the shape of a diamond. Each line uses specific types of words, like adjectives and -ing verbs. It does not have to rhyme!
Our students created some great Diamante Poems last week and I'm very happy to show you some examples. Because we are reading Charlotte's Web, we first did contrast poems between Country & City: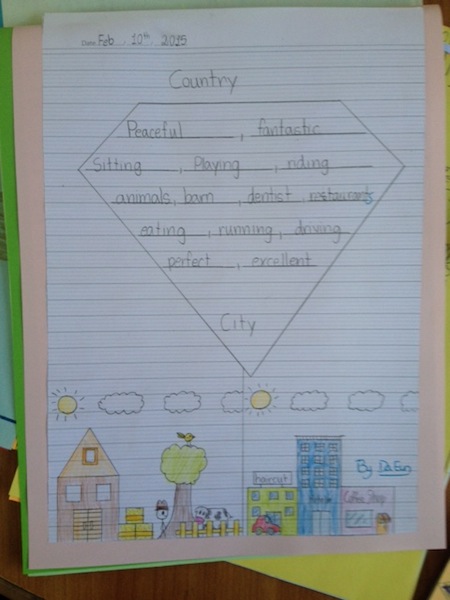 DIAMANTE POEMS "MOM & DAD" 
MOM
hardworking, caring
working, cooking, blogging
cook, blogger
engineer, teacher
playing, planning, helping
playful, creative
DAD
(by EJ)
—
MOM
smart, strong
learning, caring, hugging
housewife, pretty, busy, businessman
working, teaching, creating
strong, creative
DAD
(by Zolata)
—
OUR CREATIVE WRITING JOURNALS!